Tech, Gadgets and Weird Things from B5 Network
Friday, June 08, 2007
I was browsing the web for some party materials that I think is cool for the party that I'm going to host next weekend. Things is my mind includes pop-able confetti and other fancy items that could impress my guests.
While doing so, I stumble upon this gadget website that has alot of cool stuffs, tech gadgets and some other weird things. Later I found out that they are actually write about the things we for sure don't need but would still love to have.
One thing that I noticed about their website is the theme. It is monochromatic and lacks the techno style for a tech and gadget website. However, readers wouldn't actually mind the theme because of its content. They posts great gadget reviews in a way most of us would understant -- what I mean is they don't use tech jargons just to appear intelligent to their readers.
One of my favorite products that they reviewed is Polly, the foul-mouthed parrot. The evil idea is quite nice.
EVIL IDEA:

Let's say a member of your family invites some guests over - guests with little kids. All you need to do is hint them that the parrot toy talks, and that kids love it. All of those idiots guests will drag their kids to hear the talking parrot. All that is left for you is to retire to a nice observation point and watch the show. However, don't expect for a reaction from the kids - nowadays, small kids can curse a lot better than some mechanized bird.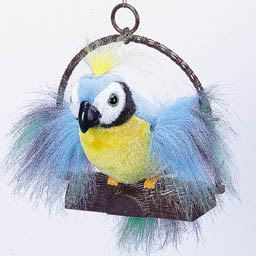 Polly, the foul-mouthed parrot
So for all y'all tech junkies who's tired of getting the same syndicated content, why not try B5 network and see how much those things you thought useless would be so much fun to have!
PS: Oh yeah, I also found a great party supplies website there too!
Labels: Gadgets, party, Technology, Web Review, Weird